Testimonials
European Transplant Coordinators Train the Trainers Course
I'd just like to say an enormous thank you to all the translating and revising team that have worked on the course content...I have made all the finished contents available to DG SANCO and the Executive Agency for Health and Consumers of the European Commission and they have already expressed a very positive opinion on them.
Thanks again for the excellent work,
David Riley, Consortium Coordinator - European Transplant Coordinators Train the Trainers Course
Ingrid Wildi Merino - Dislocacion
Estoy muy contenta de tu trabajo como traductora, para nosotros en Latinoamerica es muy importante que se nos traduzca de una forma consecuente como tu lo haz hecho. Te agradezco de corazón tu ayuda a mi projecto que ha sido inmenzo.
(I am very happy with your translation work, it is very important for us in Latin America to be translated with integrity just as you have done. I send you my heartfelt thanks for the immense help you have given to my project.)
Ingrid Wildi Merino, Artist and Curator, Dislocacion
Careers in Languages Day, University of Westminster
Thank you very much for contributing to the Careers in Languages Day on Saturday. 
Your talk was repeatedly mentioned on the feedback questionnaires as being one of the best aspects of the day so the participants clearly found it very helpful.
Havila Peck, Director, Centre for Interpreting and Translation, University of Westminster
National Network for Translation/Routes into Languages A-level workshop, University of Portsmouth
Thank you for your generous contribution of time and effort for yesterday's very successful workshop. There was a great atmosphere, and initial feedback was very positive.

Thank you to workshop leaders (and MATS graduates!), Sarah Griffin-Mason and Mark Elliott, and the colleagues in SLAS and Marketing who helped to make a really enjoyable event.
Carol O'Sullivan, Senior Lecturer in Italian Language and Translation Theory, University of Portsmouth
UNICEF-The Americas and the Caribbean Regional Office
Thank you very much for your great work on the TACRO Report on the Brasilia Consensus!
Luz Angela Melo, Regional Gender Adviser, UNICEF TACRO
Language Matters Translation Agency UK
I've read your translation and would like to thank you very much for doing a super job...I am also grateful for you liasing with [the other translator] as the two parts are consistent and we have a coherent whole.
I've spoken to the client and he is happy - he has said there will be more work.
Debbie Sasson, Language Matters UK
InterPress Service
Sarah worked in a conscientious, professional manner demonstrating both flexibility and reliability...a valued member of staff who will be sadly missed by the team here.
Mario Lubetkin, IPS Director
Uruguayan Chamber of Industries
I have found her performance of the highest professional standards at all times, and the quality of her work has been excellent. I can confidently recommend Sarah as a translator.
Ewout Klungel, Managing Director, Eurocentre, UCI
World Rainforest Movement
La Sra Mason ha realizado un aporte fundamental en [el proyecto] no solamente por el dominio de su idioma maternal...sino tambien por su conocimiento del idioma espanol...
(Mrs Mason has made an immense contribution to [the project] not only through her dominion of her mother tongue...but also through her knowledge of the Spanish language...)
Ricardo Carrere, WRM Coordinator, Co-Author of "Pulping the South"
ITeM, Third World Institute
Ademas de desempenarse con profesionalismo, precision, confiabilidad y calidad en su trabajo, Sarah domina con solvencia los programas informaticos de edicion utilizados en la Guia.
(As well as producing professional, accurate, reliable and good quality work, Sarah is a proficient user of the editing software programmes used in the production of the World Guide).
Victor Bacchetta, Editor 'World Guide' and ITeM publication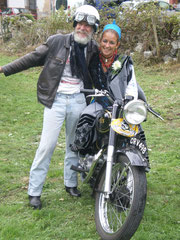 South Hampshire Moto Guzzi Club
Thanks Sarah for helping out as our interpreter at the Rally de Colombres this year. 
Moto Guzzi club members