Sarah's Attic
Sarah's Attic is officially open
Hello one and all,
Blogging is suspended for the time being as I channel my energy into developing the Professional Development offer of the Institute of Translation and Interpreting in my new position as Vice Chair.
A great deal of work is going on behind the scenes to offer better CPD for qualified and advanced translators within the Institute so keep an eye on developments via the ITI website.
Warmest regards, S
Presentation from Uni of Westminster careers day
My background and pros and cons of in house v. freelance translation
In+house+v.+freelance-sgm.2012.no+pictur
Adobe Acrobat Document
159.7 KB
Current projects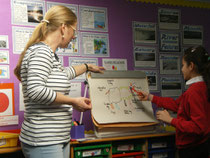 ITI Spanish Network Mentoring Scheme
The Spanish Network have completed the third round of the mentoring scheme for new translators and we are preparing for round four. 
We offer 6 x 1 hours sessions of mentoring for novice translators by seasoned professionals over the course of a year to ITI members who are also members of the Spanish Network.
If you think you need this sort of input, then sign up to ITI.
Useful links