Sarah's Attic
Hello one and all,
I hope to get back to blogging when my time as Chair of the Institute of Translation and Interpreting (ITI) comes to a close.
In the meantime, I have left a pile of interesting trunks, boxes and bags below, each of which is a great source of reference for a jobbing translator, interpreter or editor.
The best way to see what is going on in my world, if you are interested, is to follow me on Facebook or Twitter, or to join the ITI as I write in the ITI Bulletin every two months.
A great deal of work is going on behind the scenes to advance the cause of our professions and offer better CPD for qualified and advanced translators and interpreters within the Institute so keep an eye on developments via the ITI website.
Best regards,
Sarah
Presentation from Uni of Westminster careers day
My background and pros and cons of in house v. freelance translation
In+house+v.+freelance-sgm.2012.no+pictur
Adobe Acrobat Document
159.7 KB
Past projects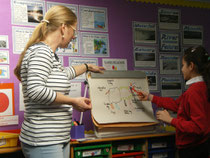 Translation Nation Phase Four
The Translation Nation project has been run in and around London and the South-East for three years now Eastside Educational Trust the Stephen Spender Trust.
Initial sessions in London and Brighton extended out to Portsmouth this year, and the successful story-based approach in primary schools is now complemented by a subtitling workshop for secondary students.
See the Translation Nation website for further details.
Michael Rosen was very complimentary about the project on BBC Radio 4's 'Word of Mouth', making some very positive comments about Sparrow Farm School where I ran a session.
ITI Spanish Network Mentoring Scheme
The Spanish Network complete yearly rounds of a mentoring scheme for new translators.
We offer 6 x 1 hours sessions of mentoring for novice translators by seasoned professionals over the course of a year to ITI members who are also members of the Spanish Network.
If you think you need this sort of input, then sign up to ITI.
Useful links